Build an effective SEO program.
Learn how to create an effective SEO program using Alpha SEO. We'll explain the different products you can combine from the marketplace to meet your client's needs starting with our automated pricing tool. Our Automated Pricing Tool can be found on our Product Page in Vendasta's marketplace. Alpha SEO also works on National and Statewide campaigns. For National campaigns, or any locations or verticals not found in our automated pricing tool, please request a custom proposal here.

Start by watching this short video:

Step by Step guide: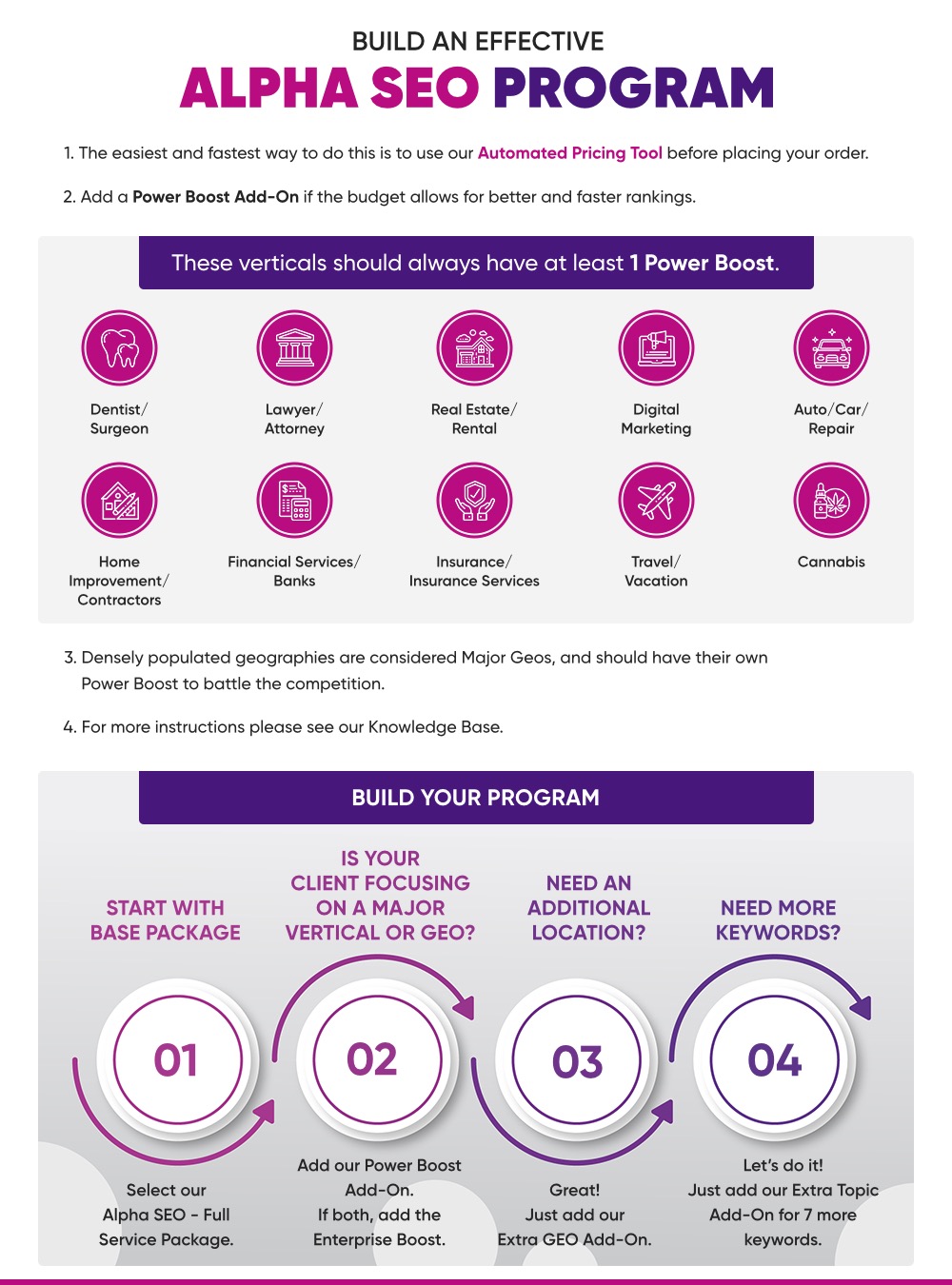 Related Articles

Learn more about the Enterprise Power Boost Add On.

Our CEO, Stuart Sherman explains the Enterprise Power Boost Add-On in this video: The Enterprise Power Boost is a great addition to any SEO program and is specifically designed for higher spend and more demanding campaigns. The deliverables are done ...

Video- Alpha SEO Program Overview

Watch our CEO, Stuart Sherman explain the Alpha SEO program in this video. Learn who is Alpha SEO, what's included in the program, how to build a package for your clients, and more!

Extra GEO Add-On

The Extra GEO Add-On provides you with 1 additional contiguous location or "Geo" (adjoining town/city/neighborhood to their business location) to target in your SEO campaign. We will work on targeting the same set of keywords on the additional ...

Alpha SEO Order Form & Process

Onboarding Order Form Our order form is the best way to gather client information and get things started. The following are the basic prerequisites needed to get started: URL* Main Business Topic * Targeted GEO* If Possible: CPanel/FTP/CMS login ...

Why is Alpha SEO the right choice.

Discover why Alpha SEO is the #1 vendor in the marketplace and the perfect choice as a white-label SEO vendor for your agency. In this short video, we explain how our full-service SEO product is both easy to understand and effective at getting ...