AI Assisted Off-Page Content Add-On
The AI-Assisted Off-Page Content Add-On package includes 4 pieces of off-page content a month that are optimized for search engines and relevant to your niche, with the help of AI technology.
Key Features:
4 pieces of AI off-page content a month

designed and strategized with SEO prompt parameters unique to your campaign specifics.

Content is posted on third-party sites to obtain high DA backlinks.

AI-assisted content is vetted by humans for quality and uniqueness.

Articles come with DA 30+ links (with many higher).

At our company, we are committed to staying on top of the latest SEO trends and technologies to provide the best possible services to our clients. We continue to work with growing technologies to figure out how to safely implement the best strategies for our clients.

Read the frequently asked questions
here
for more information or download the atatched presentation.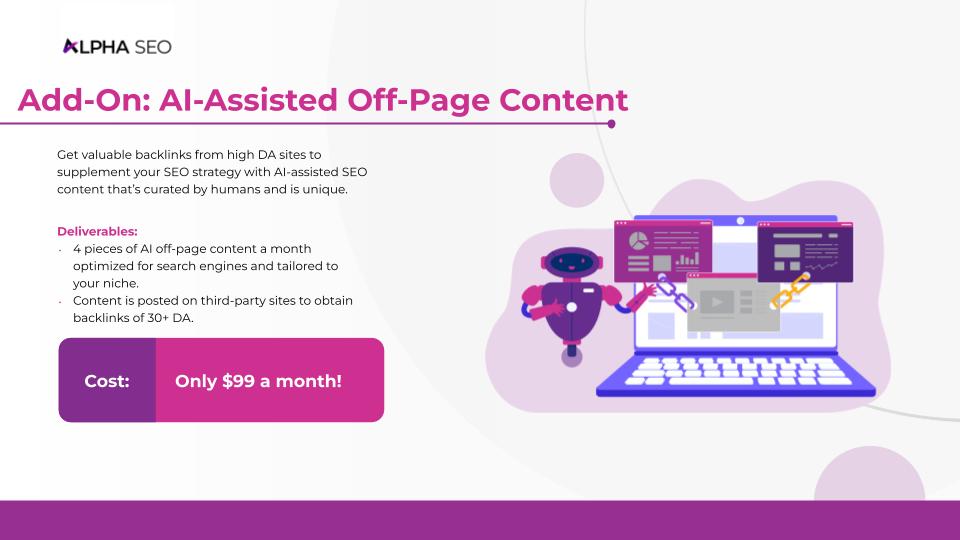 Related Articles

Extra GEO Add-On

The Extra GEO Add-On provides you with 1 additional contiguous location or "Geo" (adjoining town/city/neighborhood to their business location) to target in your SEO campaign. We will work on targeting the same set of keywords on the additional ...

Learn more about the Enterprise Power Boost Add On.

Our CEO, Stuart Sherman explains the Enterprise Power Boost Add-On in this video: The Enterprise Power Boost is a great addition to any SEO program and is specifically designed for higher spend and more demanding campaigns. The deliverables are done ...

Extra Topic Add-On

The Extra topic Add-On provides you with 7 additional keywords to target in your SEO campaign. It also includes another set of SEO deliverables to target those keywords. This is a great add-on for clients with various products or services, or if they ...

Spring to Growth Promotion 2023- Get Double Deliverables for 6 months!

Spring promotion 2023- Extended! For any questions, contact support@alphaseopros.com

Monthly SEO Report Guideline

Here we have included a comprehensive monthly SEO report guideline. This resource will help you gain a better understanding of the different metrics in SEO and effectively communicate with your clients. The report includes detailed information on the ...